Introducing the new Retail Banking Services Index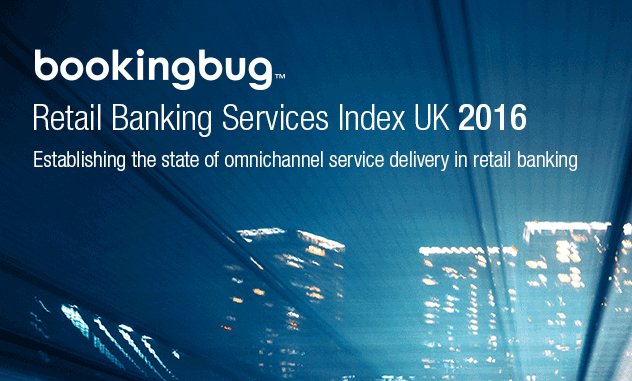 Today, BookingBug releases the first ever research into how the top 10 retail banks are creating a more competitive customer experience, and whether they are keeping up with the rest of the high street.
In a landscape transformed by clever omnichannel strategies and added value services, banks have received relatively little scrutiny compared to their retail siblings.
Last year, our Retail Services Index found more retailers than ever offering defined in-store services to add value to customers alongside traditional product lines. This was a new step for traditional retailers but the world of retail banking has a long heritage of great customer experience around its most valuable services.
Sending mystery shoppers out to the branches, websites and call centres of each major bank, we ranked them on the marketing, attitude, accessibility and delivery of in-store services.
So what did we find?
The largest banks have the most work to do: Lloyds Bank, HSBC, RBS, Halifax and Barclays all scored less than 50% of the points on offer
The human element is still missing: Our mystery shoppers were not greeted when entering 9/10 of the banks. Only Metro Bank utilised a 'concierge' style approach, but they still had no information on the customers coming into branches.
Retail banks trail behind the rest of the high street: Six out of ten banks examined took 50% or less of the points on offer. By contrast, when we looked at ordinary high street retailers in a similar report last year, every member of the top ten scored over 70%
BookingBug CEO, Glenn Shoosmith, has witnessed much of this first hand in conversation with these banks:
"The divide between the transactional and relational side of banking is widening every day. From a surprisingly efficient ATM experience to in-depth advice on some of life's biggest decisions, banks are being pulled in every direction and must make difficult choices about how to prioritise their response." "The change has started, but our research shows it is unevenly spread across the main players. The banks who embrace this opportunity first will build loyalty around their most valuable products, and keep their customers attention for complementary accounts and services."
Real insights and opportunities for retail banks
Download the full report to find uncover opportunities and insights to ensure your digital transformation stays on track and find out how the top retail banks are already approaching and delivering high-value services.