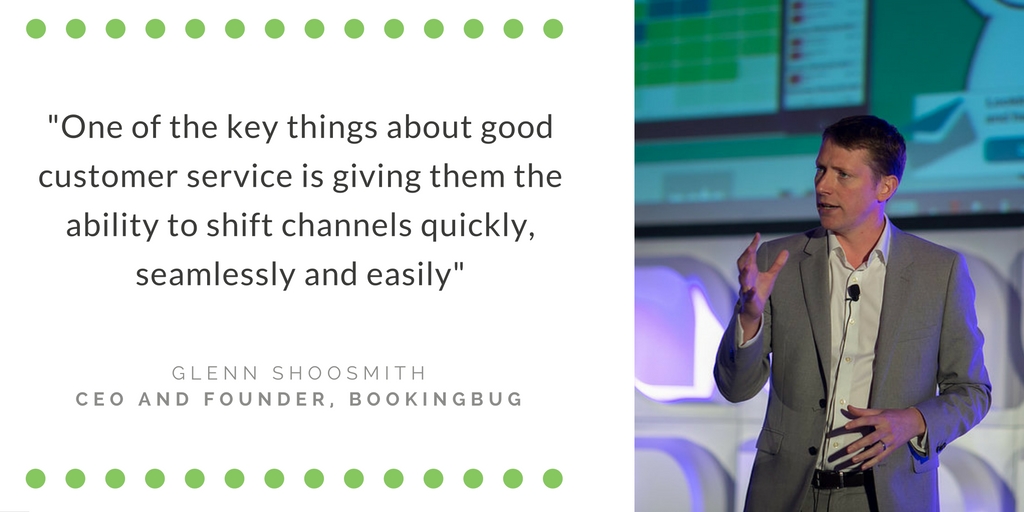 As part of a series of interviews, we recently spoke with the editor of Banking Technology about the future of services in retail banking. This latest edition approaches the same topic with BookingBug's CEO and founder, Glenn Shoosmith.
Hi Glenn, tell us a bit about BookingBug's big focus?
It's clear retail banking, particularly in the US, has been a key area for us in 2016. The UK is a smaller market and we're already engaged with or are have conversations with a lot of the big players there.
The classic challenges faced by other industries in the past few years, such as disjointed internal processes and changing customer behaviours, are finally hitting home for consumer banks.
Many of these institutions have realised they need help to keep pace with customer expectations, and that's why they've started talking to us. Since then we've started working with some of the biggest banks in the USA, Canada, UK, Europe and Australia.
To top it off BookingBug has now been profiled in a report by financial services analyst Celent, highlighting digital appointment booking as a "no brainer" investment for banks and credit unions over the coming five years.
What patterns and trends are you seeing when it comes to the conversations you're having with your banking customers?
Banks want to change how they are engaging with customers, but some are getting a feeling they are falling behind the curve when it comes to digital technologies and the world is moving on without them.
Overall US banks are still learning about some of the key business benefits of digital appointment booking. They say "we want to let our customers self-schedule their appointments, but we're worried people might not show up." Which, on one level, could be looked at as a reasonable concern.
But if you look at it in more detail, this theory is flawed. If you've got a series of customers who want to pre-book and share information ahead of an appointment in doing so, that's an enormous opportunity versus the customer walking in off the street.
Even if they don't make it to that appointment, you have everything you need to contact them and reschedule. That's the thing about tools like BookingBug — it's about enabling customers to engage on their terms.
You recently spoke about this area at Digital Banking 2016 in New Orleans. Can you talk us through that in a little more detail?
I spoke about how banks engage with these kind of digital transformation projects. Obviously from our side of the fence, we've seen a lot of banks go through these processes, and we've seen many of them do it very well — but there are many challenges along the way.
At Digital Banking 2016, I really focused on the lessons that can be learnt from the retail sector. Retailers have changed a lot in the last five years to become less transactional and more customer-focused and a lot of our clients in the space, like John Lewis, talk about the idea of the 'channel-less customer'.
This is the idea that brands shouldn't care how a customer engages with them, as long as they do engage. If people want to do that online, offline or a mix of both, it shouldn't matter as long as it creates that engagement.
So what stage are banks at in this process?
Too many banks are struggling with very siloed business units that each have different needs and priorities.
This segmentation can hurt them because the customer can suffer from a very disjointed experience. This is because inherently, the management and the structures of the business are designed to create silos.
Retailers initially found this too. They had targets where people were bonused based on hitting online sales figures. And guess what? They didn't want an online booking system to encourage customers to come into stores.
The same is true of the banks now. Many are yet to think holistically about customers and the customer experience, and that needs to change.
For big life decisions like getting a mortgage or starting a business, do you think banks need to consider them differently to everyday services?
A lot of transactional exchanges are still being serviced by a human. So banks are trying to balance the big relationship items, like opening a bank account, which could take up to an hour, with small transactional things that might take a few minutes.
What they need to be doing is working hard to automate and digitize those transactional items where possible.
What about the people who may not be able, or comfortable, using digital channels or ATMs?
There will always be people who don't want to talk to a computer, so that's why it's vital to offer both options. It's all about putting the customer in control.
You could optimise the channels so that wherever possible customers are shifted to a self-service channel, because the cost of transaction is lower. This is an oversimplification, one of the key things about good customer service is giving them the ability to shift those channels quickly, seamlessly and easily.
What do you think the next big challenges for retail banks will be?
Retail banks are working hard on service delivery. Today, you have a specialist business bank manager or dedicated mortgage advisor, but they might work from several different locations. This is when pre-booked appointments become very important, people have traveled quite a way to see someone and it's an immensely frustrating experience for the customer if they aren't there.
In the Live Platform Demo Webinar you will learn about BookingBug's capabilities and discover the many use cases of our platform. We will also examine some of our customer's digital appointment booking deployments and customer journeys.
All delegates will have the chance to have questions answered in real time. Register Now!