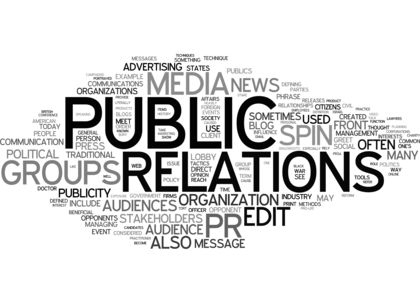 Local PR is a vital tool for all types of service businesses to help get your name and ideas out in the market, to attract new customers and help your business grow. It can also be very expensive, so here are six DIY top tips to help you make the most of local PR on a minimal budget.
*    1. *Set goals and objectives
First and foremost, when it comes to PR you should set specific goals you'd like to achieve. This will provide your business with something to aim for and help to keep your limited time focused. For example a goal could be to get press coverage in the local paper, contribute regularly to a local blog, run a seasonal kids competition or sponsor a local event – then set yourself deadlines for achieving each of those goals.
2. *Get your business out there*
In order to build brand awareness, journalists, bloggers and other stakeholders must, of course, know you're there. To do this, you must ensure you engage, network and invite them to any events you hold. These events could be new product or service launches or demonstration events to show off your business and its skills. As well as holding events you should also attend as many events as you can, and network to create relationships. These relationships must then be kept and you should be as helpful to others as you'd wish them to be to you.
3. *Make the most of brand power*
A great yet simple form of free local PR is to market your business through a strong brand identity – both online and offline. To do so have a unique company name and a recognisable logo so your stakeholders can automatically link any information they see to you. Make the most of your brand on social media, and make sure you're active on local blogs and business / community forums.
4. *Find the right message*
Think about how your services benefit people and make that the story you tell. People respond to emotion so keep it real – they want to know that your service is worthwhile, so show them through a series of customer testimonials.  Also, provide proof to people by offering special introductory offers that allow people to try your service as part of a purchase deal.
5. *Be Sociable*
Social media is popular and still growing set of platforms that allow you to freely interact with your customers and potential customers in a way that simply hasn't been possible until recently. It can be used as both a sales channel and an engagement tool. There are of course some general common sense rules to using social media for PR; When making posts, be different and interesting, it will help you stand out in a place filled with millions of users. And post exciting news, intelligent comments and helpful responses – and be sure not to over do it and spam your followers with irrelevant or repetitive content.
6. *Word of Mouth*
Word of mouth is a really powerful way to generate local PR. This is because customers can easily pass on information about your business to others who could then lead on to become new customers. Though studies found that people will tell three times as many people about a negative experience, in comparison to when they have a positive experience. So ensure to provide great customer service, so that only positive words can be passed on. A great way to encourage word of mouth is to reward customers who make referrals for you and those who are loyal to you.
So there you have 6 great tips on how to generate local PR on a small budget. Remember you can use just some of our tips, all of them and even anymore you can think of. Please feel free to share any tips that you think of or find, and we wish you good luck.
* *