Retailers across the globe kicked off the new year in search of new technology at National Retail Federation's (NRF) The Big Show held in New York City this past weekend. The name "The Big Show" is appropriate as it attracted the largest brands and had over 33,000 attendees, 510 exhibitors and 300 top notch speakers.
This is a critical time for retailers as the retail industry is experiencing massive transformation as they try to compete with online retailers like Amazon and try to stop declining footfall into their stores. The Big Show allows retailers to find innovative technology solutions to incorporate into their business strategy in an effort to unite in-store and digital channels to create a memorable customer experience.
Matthew Shay, NRF's President & CEO, stated "We need disruption, we need to shake up status quo and usher in the next generation of innovative solutions". He's absolutely correct and serial entrepreneur, Sir Richard Branson, founder of Virgin Group, agreed and stated "Retailers need to think like entrepreneurs". As technology advances, retailers need to start thinking outside the box to survive.
Photo Credit: Portal Novarejo
Kip Tindell, co-founder and chairman of The Container Store, asked Richard Branson a difficult question and a topic on every retailer's mind, "If you were a U.S. retailer with 20 or 30 years in business and maybe 300 locations, and you were faced with declining foot traffic, what would you do?" Branson chuckled and described one of his earlier successful ventures, Virgin Megastores, which sold records and CDs but became obsolete due to the invention of the iPod.
Branson stated, "When we saw the handwriting on the wall for Virgin Megastores we decided, well, we don't have to keep being a retailer. We looked at what products were selling well in our stores. It was the early days of mobile phones, so we decided to start a mobile phone company. It was the early days of video games doing well, so we thought, let's get out and start a video game company."
"And actually, the businesses we started by sort of using the stores to see what products were selling became much, much bigger than our retail stores ever could have been. I know it's easy to glibly say this, but I think people who own retail stores should not think of themselves as always being retailers. They need to be entrepreneurial, and they need to spin off businesses on the back of their retail that can make them money to help the retail stores to survive." We were certainly inspired by his remarks and streamed it live on Twitter, you can watch his full session here.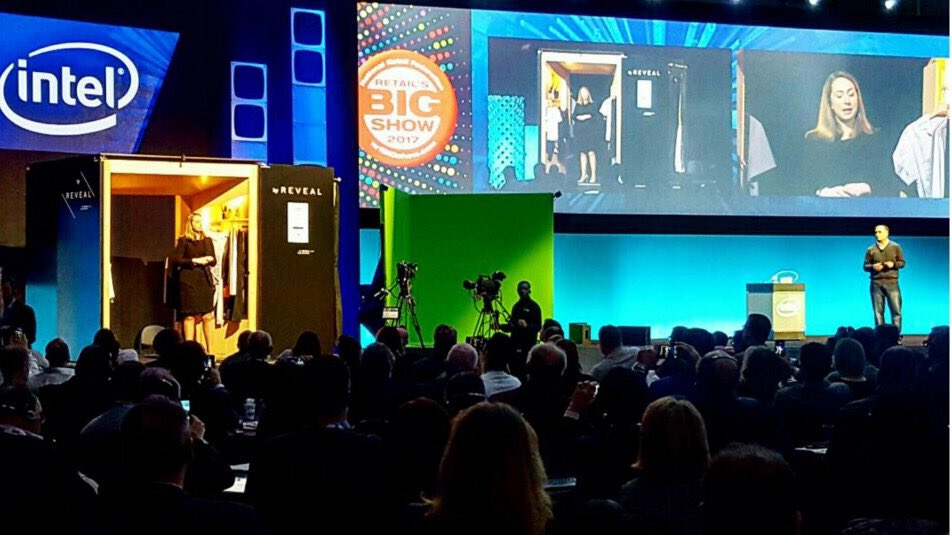 Photo Credit: By_Revel Instagram
REVEAL is already acting on Richard Branson's advice and is revolutionizing how pop-up shops operate. REVEAL brings experiences to consumers, revealing products at the right place at the right time. The 6-by-6 foot space can be set up or taken down in 20 minutes, powers itself, is lockable and waterproof. Believe it or not there are also dressing rooms in the efficiently used space. The clothing items on display are carefully chosen from a number of inventive brands.
Megan Berry, a student at the Harvard Graduate School of Design, explained to Stores Conversation Daily Newspaper that she started REVEAL as she became aware of the challenges that emerging fashion and product designers face in launching new lines. "Right now, retail is broke," Berry says.
"It's extraordinarily expensive to go and launch your own bricks-and-mortar store. Conversely, if you go into a retailer, it's really difficult for a young designer to come up with the capital to meet the margin requirements. Our goal is to be a leader in discovery retail, and to be a new platform for the customer to uncover brands that they would have a difficult time finding."
This is one of the ways retail is evolving and REVEAL pop-up boutiques can go where traditional retailers can't.
Another way retailers are adapting to the digital age to unite in-store and digital channels is through event and appointment scheduling. BookingBug's SVP, Karim Iskandar, gave a session describing 7 success stories of how top retailers like Babies R Us and Adidas are doing this today.
In efforts to create brand loyalty and enhance customer experience, Babies R Us, offers a wide range of free classes, from breastfeeding 101 to introducing dog to baby, which can easily be booked right on their website. Not only have these classes increased basket size but they have also helped reduce admin tasks by 75%.
Iskandar also described how a prominent UK retailer, John Lewis, implemented appointment scheduling a few years ago and now offers 15 different in-store or at-home services. This includes an array of services from manicures and personal shopping to kitchen fittings, John Lewis offers it all. They have seen major revenue increases directly from appointment scheduling and are steering their business toward being driven by appointments.
You can check out Iskandar's full session to learn how other retailers are increasing in-store footfall through appointment scheduling and incorporating this into their business and marketing strategies here.
As new technologies emerge and disrupt the retail industry, they must adapt to the modern consumer. If they don't it's inevitable more store closings will be the result. It's now that retailers must think outside the box and have an entrepreneurial outlook to create a personalized experience.
Download this free eBook to explore the future of retail personalization and how to implement new strategies to increase in-store footfall, improve revenue per customer and to drive customer loyalty.