In our previous post on personalization, we discussed the evolution of retail's journey to offer a bespoke service. Check out that post here. Now we look ahead to see how retailers are embracing technology and data to better serve customers in the new age of true personalization.
Utilizing data
Today, retailers are using data accumulated from smartphones, tablets, point-of-sale systems, inventory and contact centers to create a personalized customer experience. For example, Nordstom, one of America's most popular fashion retailers, has set up an Innovation Lab to look into the ways data can enhance the customer experience. The retailer is already trialling new technologies including beacons and WiFi to send customers personalized promotions and messages based on customer data. Will customers soon be targeted with localized advertising as seen in Minority Report?
Empowering staff with data
Dan Hartveld, Chief Technology Officer at Red Ant, explains how consumer expectations of customer service in-store are increasing. "Our recent research found that one in three consumers will leave a store after waiting three minutes for an assistant and almost 40% believe a lack of product knowledge is the most irritating trait of a shop-floor assistant," he commented.
With the data available in today's digital world, retailers can empower their staff to give a more informed customer service – one that mirrors the pre-digital high street.
By arming staff with a customer's previous purchase history, browsing data and even returns history, the staff member can hone in on that particular customer's preferences. Dan believes that, "smart retailers know that to drive customer engagement, service and loyalty, customer service needs to be of the same standard, whether online or offline. Providing shop-floor workers with customer information, real-time company updates and integrated communications across business divisions enables retailers to manage brand reputation, stock efficiencies and customer experience more closely."
Launching Tech Savvy Stores
In order to create an integrated online and offline experience, retailers are bringing digital innovations in-store by creating unique shopping experiences to cater to the needs of the modern digital consumer.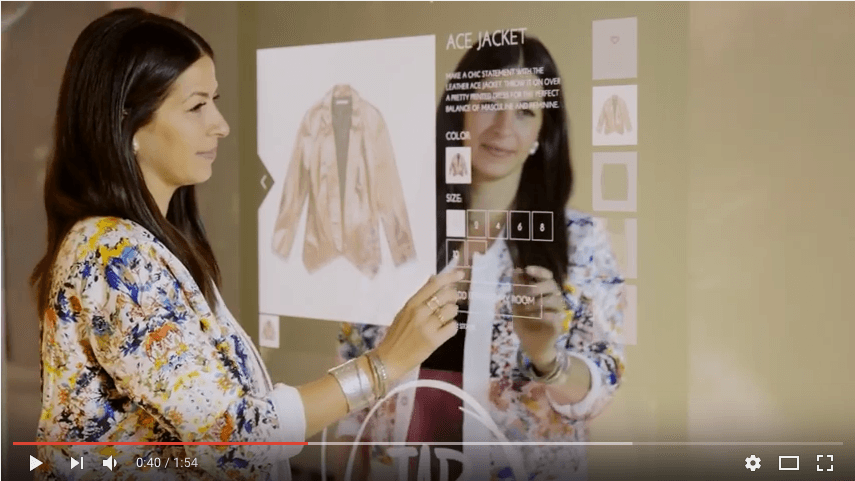 Rebecca Minkoff is leading the way in bringing the best of online to in-store using data and technology to create an unforgettable customer experience. Many of Minkoff's luxury stores have augmented reality 'magic mirrors' that allow customers to browse and select products in interactive fitting rooms. Customers can click on the mirror to have items sent directly to fitting rooms and pay for them in seconds using their mobile phones.
Rebecca Minkoff's stores feature many customer experience innovations, including beacons, radio frequency identification technology, and interactive displays. Customers who share their phone number can order a drink and browse the store until they receive a text message notifying them when a fitting room has become vacant. By using sensors and cameras, the company tracks customers inside their stores and uses the data to improve their store layouts, inventory, pricing and window displays.
Conclusion
Econsultancy's research shows that 74% of marketers know that personalization increases customer engagement. By creating customer experiences that are personal to each individual, consumers feel more valued and understood by the brand, and ultimately sit up and listen. On top of this, brands are building one-to-one relationships with their customers that will be more valuable in terms of repeat custom and therefore revenue. Download the The Personalized Retailer to find out more about implementing an effective personalization strategy.