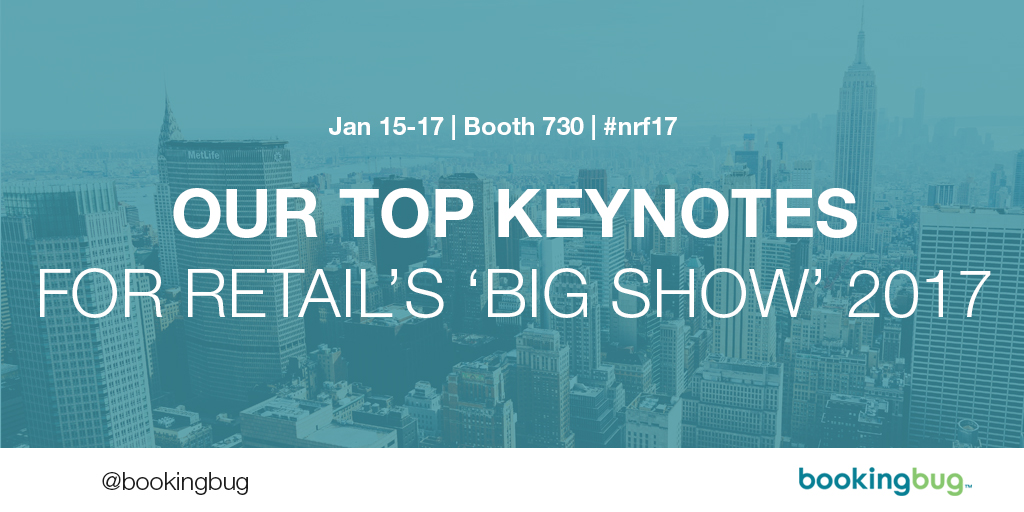 We can't wait for NRF's Annual Convention & Expo, aka "Retail's BIG Show". NRF's flagship annual three day event is held in New York City and offers unparalleled education, excellent networking and an enormous expo hall full of leading technologies and solutions - a perfect opportunity to get some innovative tips that are crucial to remaining competitive in the retail landscape. Hear from industry leaders shattering the status quo and driving innovation and achieving success.
Join the BookingBug team at Retail's BIG Show January 15-17 on booth #730 to:
LEARN how using BookingBug as part of your omnichannel strategies can elevate customer engagement, improve associate experiences and increase revenue through appointment scheduling.
JOIN live hands-on demonstrations of the BookingBug platform to discover how you can use your web and digital assets to increase in-store footfall.
MEET the team behind the world's favorite online booking platform and discover more about the great work we've done to help retailers offer greater customer experiences.
This year we've highlighted a few exciting keynote sessions that have caught our eye:

In this session with BookingBug's EVP, Global Sales and Marketing, Karim Iskandar, you'll learn how retailers like Babies R Us and Adidas are increasing revenue through appointment scheduling while increasing staff efficiencies and creating a positive customer experience.
Tuesday, January 17 3:00pm - 3:45pm | Exhibitor Insights | EXPO Hall, Room 2, Level 1
Discover key leadership lessons learned from notably the most followed person on LinkedIn and who has gone on to grow successful businesses in multiple industry sectors. Sir Richard will share his insights on inspiring deep brand affinity, fostering business agility, and keeping his finger on the pulse of innovation and disruption more than 40 years after Virgin's founding.
Monday, January 16 9:00am – 10:00am | Keynote Session | North Hall, Level 2
Join co-founder and chief purpose officer of The Honest Company, Christopher Gavigan, and IKEA USA's president, Lars Petersson, who will both share their company's ethos with the socially aware consumer in mind. They will discuss building trust through brand authenticity and fostering genuine consumer relationships paired with a relentless focus on product excellence.
Tuesday, January 17 3:15pm – 4:00pm | Keynote Session | North Hall, Level 2
So if you're heading to Retail's BIG Show 2017 and want to know more about how to offer joined-up customer experiences, be sure to stop by the BookingBug booth #730 to watch live product demos and talk to our team of experts about our solutions.
We asked 2,000 consumers across the US and UK to understand their attitudes and opinions of retail stores. Download the full research today to learn more about the complex relationship between the online and offline worlds of retail, and discover what a fully connected online to offline experience should look like in 2017 and beyond.
Follow us on Twitter (@BookingBug) and LinkedIn for news, articles and updates from the team. For more information on BookingBug visit us at https://www.bookingbug.com/retail.