Earlier this year we produced a report highlighting some surprising statistics about customer habits and attitudes to online and offline shopping. Since then these industry insights have informed hundreds of companies' marketing strategies so, due to popular demand, we will be publishing our omnichannel predictions for 2018 in the New Year!
In order to predict 2017's consumer trends we asked over 2,000 shoppers across the UK and US about their habits, preferences and experiences.
What we discovered was a mixed picture of the modern shopper. You can see the key findings below:
---
Offline retail isn't going anywhere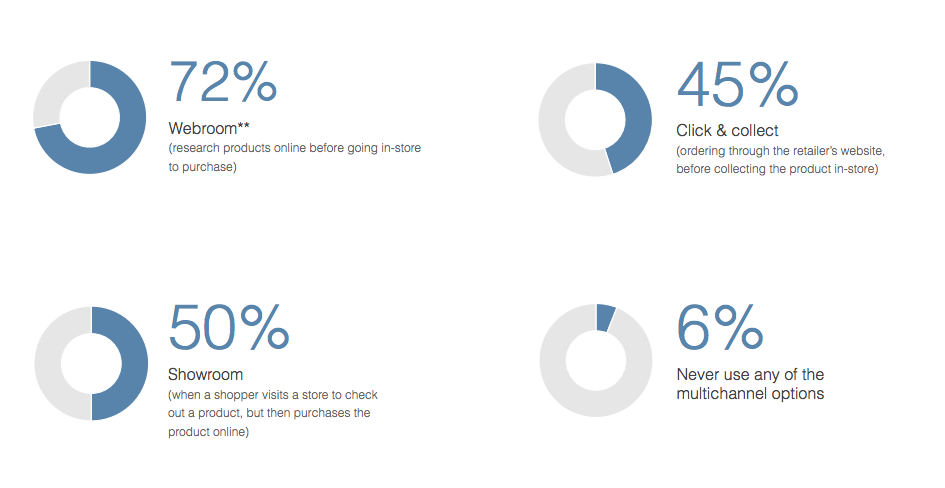 Just over half (55%) of US shoppers and 45% of UK shoppers still rely mainly on stores for a range of non-grocery shopping. Despite nearly 20 years of online retail, a trip to the shops is still a key part of consumer behaviour.
Amazon, the online retail juggernaut, have shown that even they see the value in physical stores. The ecommerce giant has already opened six physical bookstores with plans to open 400 in the coming years. This year Amazon also purchased physical food retailer Wholefoods and have plans to open numerous AmazonGo stores in the US and UK.
This shows that even the biggest online retailers see the great value in physical stores.
---
Omnichannel is now the norm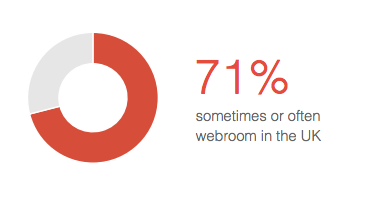 Around 94% of US and 95% of UK customers now use multiple channels when shopping, leaving only a small minority sticking to a single channel. Consumers also admitted to jumping between channels when shopping, seeing the rise of an increasingly complex customer journey.
---
Online window shopping is here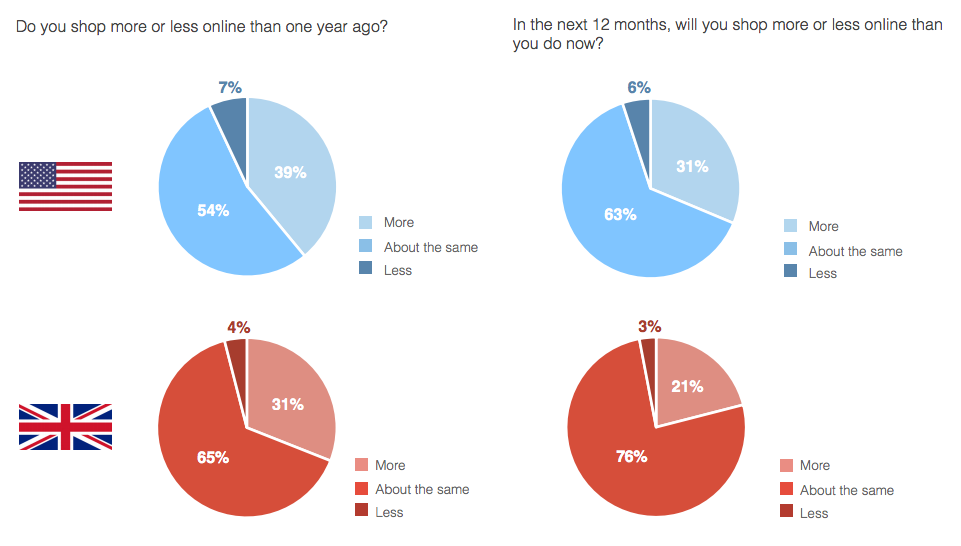 71% of customers admitted to researching products online before buying them in store (Webrooming). On the other side of the coin, 51% say they have looked at products in stores before buying them online (Showrooming).
This omnichannel approach by customers could be the answer to retailers keeping their high street stores open. Retailers need to hone in on this Webrooming trend and use customer's online activity to predict what they would like to try on in store. By using personalization and making instore the place to go for a tactile, immersive shopping experiences, retailers can capitalize on the Webrooming trend.
Rebecca Minkoff' connected store is already putting this theory into action. By using smart mirrors in their changing rooms that recognise a customer account via their phone, their online wish list or shopping basket can be instantly viewed. This means customers aren't wasting time rummaging through rails trying to find the item they saw online, but a store assistant can instantly find it for you, as well as the mirror suggesting other items that would complement it.
---
Online purchasing plateaus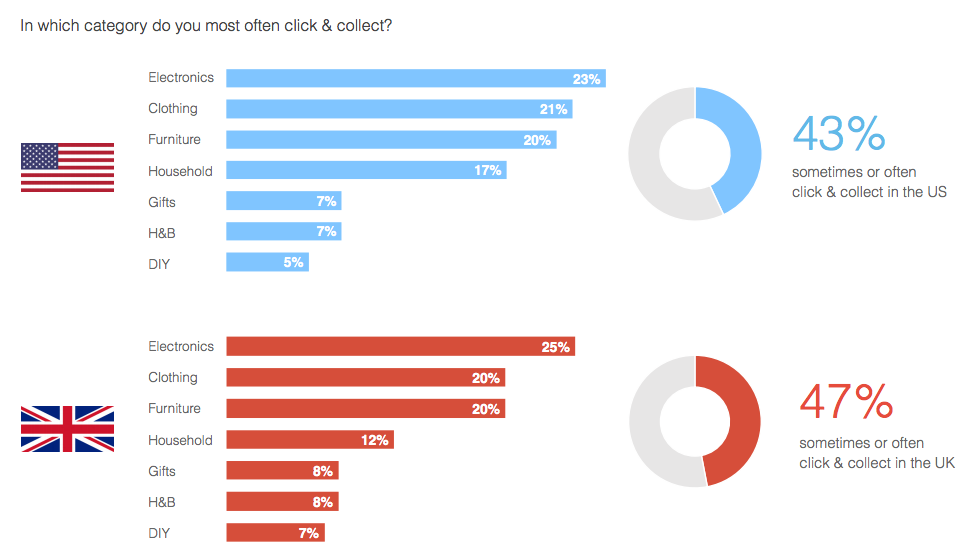 Around 30-40% of consumers increased online spend in the last year, but up to 76% expect it remain the same in the next 12 months. The swing between those who increased spend in the last year, but now expect more constant spend in the next year is around 10% across both territories.
---
Click and collect isn't the real reason we go offline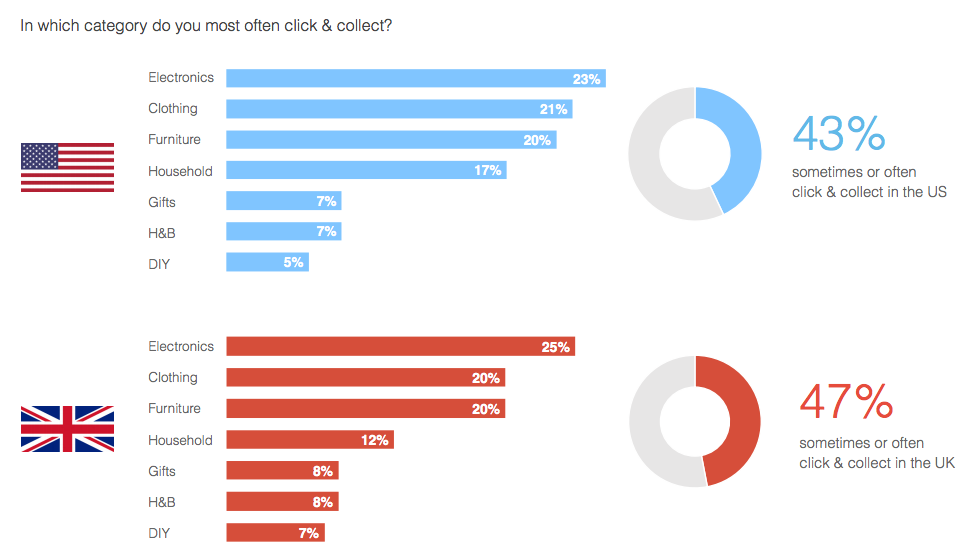 A quarter of consumers had still never tried click and collect. And only 47% of consumers claimed to sometimes or often use click and collect with electronics being the most popular category.
Click and collect is the perfect way to connect online and in-store visits. When done right retailers have the ability to provide their customers with a great experience online and can increase basket size during the collection process.
UK retailer. John Lewis, is using the power of click and collect to their advantage by enabling customers to pick up their products in any John Lewis or Waitrose store. By allowing customers to pick up their goods on the way home in a grocery store John Lewis is exposing them to many products that the customer would not otherwise have seen, and makes it easier for them to pick up the pint of milk or bits for dinner from them rather than a competitor.
John Lewis has made click and collect part of a seamless online customer experience. Their click and collect option is easily visible when viewing products and allows customers to see when their order will be ready for collection at a store that is convenient for them.
Click and collect is proving to be a great tool for retailers to capitalize on the omnichannel journey by increasing footfall and basket sizes in physical locations.
---
So what do customers want?
Over the past year this data has enabled many retailers to work out what the new role of the brick-and-mortar store is for their customers.
In our experience, the most successful retailers confront this head on. Stores act as a venue for the most important interactions with their highest value customers.
According to our survey, 44% of consumers found stores gave them the best sense of a company they are buying from, compared to only 15% for online.
It's clear these physical locations played a key role in helping customers understand a brand's identity, as well as providing key information about products and services.
---
Trends for 2018
The insights provided by this report have been so successful in helping retailers devise an omnichannel strategy that we have conducted the same survey again this year to see how customers behaviours and preferences have changed.
Want to be the first to know about the new results in January? Download the Modern Consumer Report and we'll send you the next report for free, directly to your inbox!