BookingBug is growing quickly. Our software is being used by thousands of businesses everyday, we're expanding our teams globally and have recently moved into our lovely new HQ in London. Because of this, we're always looking to add talent to our diverse departments and our UK, US and Australian Teams.
So why join BookingBug?
You'll be part of a diverse, hardworking and fun team – all working towards an exciting product. And because we're a small company, whenever you complete a project you will be see the results immediately which is a great feeling.
We pride ourselves on our great working culture. In return for your hardwork and ability, you will find yourself rewarded with a host of extra perks which include breakfast, snacks and beverages to keep your brain ticking throughout the day. We recently just had a pizza party in honour of Employee Appreciation Day!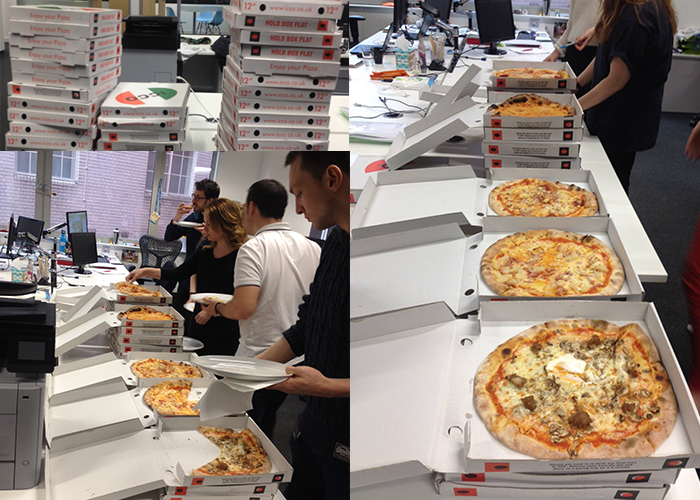 The work is exciting, the perks are delicious – but we can't forget the great people that you'll be working with. We all come from very different backgrounds – from astrophysics, to music management to criminology, so you'll never be short of conversation.
In work, you'll always have the support and guidance of your friendly colleagues and no doubt you'll take a visit to the food market near the office with us. Outside of work, we're a social bunch and we tend to organise regular events like bowling, sports and general fun activities – last Christmas we went to Winter Wonderland!
So if you're hardworking, social and BookingBug looks like the place you want to work, we want to hear from you. You can send your CV to us at jobs@bookingbug.com or, alternatively, click here.