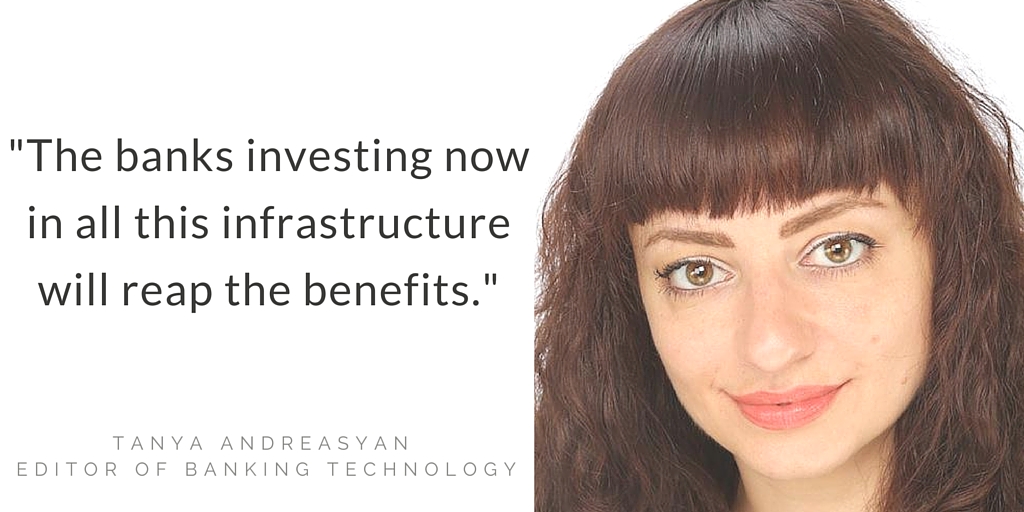 With the former Barclays' Chief saying that "blockchain could destroy the core of banking" and Capital One's Financial Chief Information Officer admitting "banking is the ripest industry for disruption", it's clear traditional banks are going through a tumultuous time.
To get to the heart of the subject we caught up with Tanya Andreasyan, Editor of Banking Technology Magazine, to find out what she's seeing from inside the eye of the storm.
Hi Tanya, what trends are leaping out to you this year?
One key trend I've noticed is challenger banks in the UK finally gaining licences. I'm a big fan of competition and I think the big banks are long overdue a shake-up – on the other hand, perhaps not all challenger banks will be sustainable.
At the end of the day, banking is about making money and, whilst they may be able to attract many users, they will have to think about what will make them successful and profitable longer term.
How do you think banking technology has affected the in-store experience recently?
It has improved it exponentially, but only in branches where banks have invested properly.
For example, Barclays has been good in overhauling branches and introduced lots of self-service terminals for products. You don't have to queue, don't have to waste your time or chat with a cashier. But in addition, they have put people on the floor who can help the public use them and bring a human touch.
How has that affected the role of the tellers in store?
There's pressure on these tellers to complete sales, to have more visibility and more knowledge. Banks are trying to turn them into Universal Bankers, a term used on the tech circuit, where they can do more than just hear your name and look up your current account.
Technology can help them because they don't have to just have their green screen, they can greet a customer as they walk in with an iPad, look on the device and see everything they need to know about them. And equally, the customer can often book themselves in or access services with almost the same interface at home.
How are banks managing this human resource as it becomes more important to the customer experience?
On one side, humans are becoming obsolete – closing branches, reducing staff. Everyone seems to have less and less.
However, I don't think there's any example of a 100% self-serving branch. When it comes to the most important decisions like mortgages, business accounts and loans, there are surveys and data that show millennials, middle-aged people, older people all want to talk to a human being.
So there's a struggle between automation and the need for humans around the highest value services
Exactly. Banks realise this more and more. As you reduce the people in the branch, you need those left to be well suited for discussing high-value services like a mortgage or large loans.
It seems there's a stratification: between transactional services like paying a check in and the most valuable services
I absolutely agree. It does make sense to push customers toward self-service for the former but you will always need a backup plan and humans if someone presses the wrong button.
If someone comes into the store who is about to become a big value customer, how do they make sure they know and focus their human team on helping them?
Technology is much more joined up than it used to be – data is less often just trapped in one branch or one place. But they still have to make sure there are no silos between the different systems, especially with older infrastructure.
This is one of those areas where you just can't solve the problem manually – you need the right, specific technology to help you solve it.
One of the things that makes it more complicated is the online-offline divide. How do you see banks tackling that?
They need to be prepared for the same journey to continue across all platforms. So if they start something on the desktop then log into the mobile app then back into the browser on a tablet and then turn up in branch. The banks investing now in all this infrastructure will reap the benefits.
From look and feel to how they market it to customers, all of this requires technology – but also requires marketing to educate their users and employees.
You can find Tanya Andreasyan over on Twitter here and follow us over at @BookingBug for the latest insights from inside the world of retail banking.