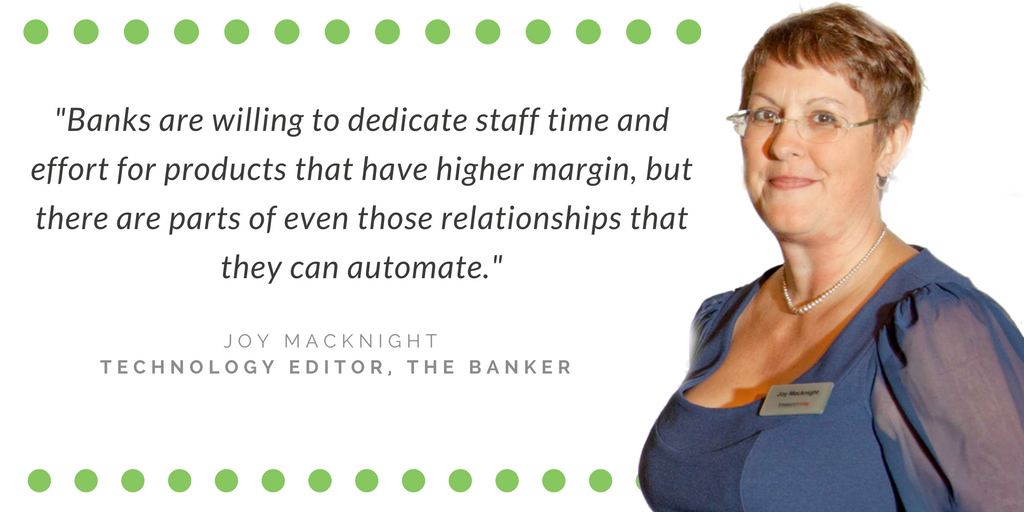 In the next instalment of our series of interviews with the world's leading lights in banking, we caught up with Joy Macknight, transaction banking and technology editor at The Banker, to get her views on what could make and break the banks in the next few years.
Hi Joy, what trends are leaping out to you in banking technology today?
All banks are grappling with what to do with their branches. So there's a lot of debate around whether they will unload their bricks and mortar and sell off their branches, or put them to better use.
Then you have branchless neo-banks coming into play, who do everything online. At the same time it's interesting to see other new banks looking at branches in a different way and asking how they can deliver that close contact and specialised service from a physical location.
Can you give examples of someone doing this well?
The Banker ranks the top 500 banking brands at the beginning of each year, and this year Virgin Money was one of the top movers in brand awareness. It attributes its success to launching drop-in centres called Virgin Money Lounges. These aren't sales branches as such, but smaller locations providing a rest area in high footfall areas.
These lounges are locations where customers can take a break, have a coffee, check their emails. Kids can play on a Playstation. They are designed to create a community feel and a respite. I think that's an interesting angle on the future of the branch.
You also have examples like the Spanish banks, using top level technology in a different way. Just look at what Caixa Bank is doing with imaginbank, which is online only but still uses Caixa Bank's branch network to provide specific services.
They realise that for things like mortgages, customers may want to sit down and talk with someone. So it's about how to maintain the service level and the footprint to serve customers who want to go into a branch — but potentially reduce the number of customer service agents. It's no longer about tellers sitting behind a glass partition; they are out there engaging, using iPads to access data and being more mobile and responsive to customers.
How do you think banks are getting the balance right in serving customers with humans and technology in branch?
I recently went into my branch and joined the queue. They had tellers helping people in line. I didn't have my card with me but they explained I could still use the ATM. So technology is advancing but I think a lot of it is about educating customers.
I also went to a technology firm recently where they had a kind of "showcase lab" for new technology. They are currently piloting an idea with a bank in the Middle East where you can walk outside the branch and interact with a screen to get information on the different products the bank offers. So you can find out about services offered without going into the branch.
Do you see an increasing stratification of services in banks between high value and low value customers or transactions?
I definitely see this increasing.
There's definitely a divide but the banks are grappling with where that split is and how to manage it. Some are a bit further advanced than others — but that is the crux of what they are dealing with at the moment.
Obviously banks are willing to dedicate staff time and effort for products that have higher margin — but there are parts of even those relationships that they can automate. So, when the customer comes into branch and there has already been an electronic interaction, they know exactly why they are there and staff don't waste time repeating questions.
I think that's the key right there. Even with the high end clients, there are still some things that can be automated. What you don't want is to walk into a branch, having laid the groundwork online and be made to go through all the same hoops and steps to identify yourself and have someone ask "What are you here for?"

Digital appointment booking is no longer thought of as an add-on, it has become core to the engagement strategies of customer-centric organisations around the world. Download your copy of the report and discover more about the significant opportunity associated with digital appointment booking for banking.