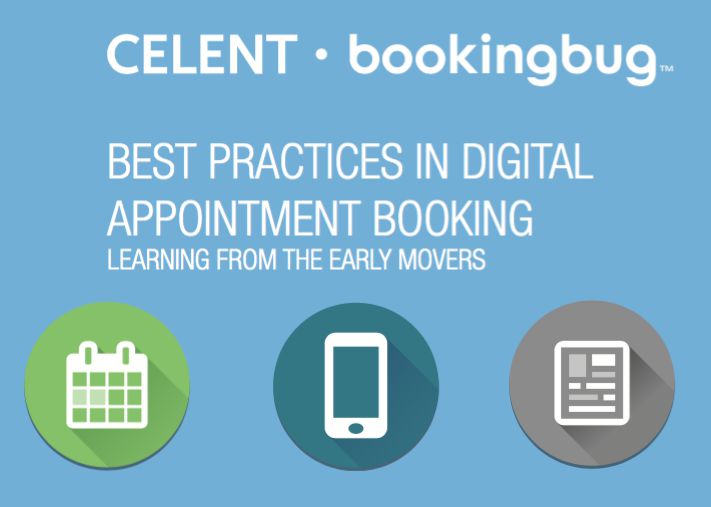 On September 22nd we'll be hosting the 'Best Practices in Digital Appointment Booking' webinar. Leading the session, Celent analyst, Bob Meara, will offer a primer on digital appointment booking, including best practice suggestions based on his own research among the early innovators.
Your Hosts
Joining Bob will be Debbie Sabater, SVP Retail Strategy for Oriental Bank, will share the bank's perspectives on what drove their decision to implement Digital Appointment Booking technology, how they built a business case and what success looks like.
Rounding off the session will our own Glenn Shoosmith, founder and CEO of BookingBug, who will share his insights into some of the common trends and challenges encountered by banks implementing such digital transformation projects.
In the build up to the webinar, we thought we'd take a look back at the report by Celent on the best practices in digital appointment booking and give an overview of the report's key research questions and it's discoveries.
Useful Insights and Learnings
The research found that Digital Appointment Booking is an easy win for banks seeking to improve integration between face-to-face and digital engagements, yet few have taken steps towards an omnichannel approach. The Celent report explores digital appointment booking, the results obtained and the best practices observed among the early adopters.
The report concludes that digital appointment booking is not only about driving branch traffic, but improving customer engagement across the whole omnichannel spectrum.
Best practices suggest digital appointment booking is not an end-all solution, but one of many customer engagement mechanisms that leading financial institutions are learning how to orchestrate to better serve customers. Digital Appointment Booking is also not simply about booking appointments. When integrated with in-branch staff management systems, the ability to book appointments digitally can help customers efficiently and effectively accomplish what they want and when they want it.
The report offers key insights into the vendors already utilising digital appointment booking solutions, what the likely near-term adoption will be and the best practices that can be gleaned from the early movers as well as highlighting the benefits of using a digital appointment booking system for financial institutions, including:
Improved sales results
More efficient and effective front line staff
Improved marketing campaign effectiveness
Improved customer satisfaction
Despite the compelling reasons to offer digital appointment booking, and its widespread use in many other sectors, it has seen very little take up within financial services. A look at many bank websites suggests a common lack of compelling call to action.
Banks leave it to customers to follow through on their interest, despite Celent's findings that 67% of people make financial decisions influenced by the information they find on a bank's website. But Celent surveys and vendor sales activity suggest digital appointment booking is on the cusp of widespread adoption.
Digital appointment booking is no longer thought of as an add-on, it has become core to the engagement strategies of customer-centric organisations around the world. Download your copy of the report and discover more about the significant opportunity associated with digital appointment booking for banking.