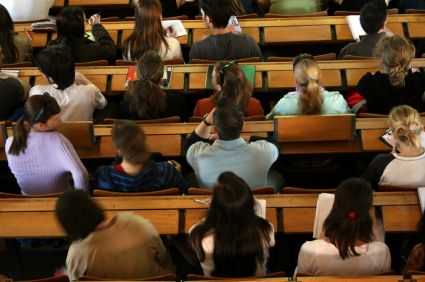 This blog post is the last in a series about the Student Life Cycle outlining why colleges should be adopting technology to better manage the entire student life cycle process; from applying and accepting to attending; to graduating to alumni giving and continuing education; and finally for some, to attend graduate school.
At many graduate schools, the admission process is more haphazard than the undergraduate process. There are many reasons for this. The volume of applicants is lower as there are about six times as many undergraduate students as graduate students. The application requirements are usually less comprehensive. Many of the students are only applying to three graduate schools or less. And most critically, much of the admissions process is directed by the different departments rather than centralized with the admissions office.
These factors can put a school at a disadvantage.
Many schools agree. In a survey of 242 graduate school deans, 58% named the recruitment, admission and enrollment process as the most pressing issue at their school. This was easily the top choice over other areas including program quality, teacher quality, financial aid, student support and student retention. Here are five ways that graduate schools can use techniques and technology attract better students, improve customer satisfaction and increase enrollment.
1. Build A Strategy
Many graduate school applicants are already working and will not tolerate an application process that is not seamless. Graduate schools need their own admissions strategy that is both centralized and independent from the undergraduate programs. Departments should be involved in the process but there needs to be a cohesive process that is adhered to or everyone will suffer.
2. Capture Application Activity
Just as we outlined the best practices in the undergraduate admission process, "the colleges that capture and analyze advanced application data have the greatest chance of understanding the needs of the students. This type of data measures a student's probability of enrolling: web pages visited, social media engagement, mobile app downloads and questions asked online during the process." The more time and effort the graduate student spends to research the school, the more likely that student will graduate.
3. Use A Personal Touch
Many graduate schools use automated systems to flag applications that are incomplete and generate an email to the student that some part of their application needs to be fixed. Not surprisingly, most applicants preferred getting a phone call alerting them to this issue rather than an impersonal email. Often, a conversation with the admission office was necessary to explain what was required and an email alert didn't solve the issue.
4. Using Appointment Booking to Streamline Interviews
Graduate schools offer more variety in the types of interviews than undergraduate colleges. These interviews can be one-on-one with a faculty member, panel interviews, video conferences, telephone interviews or multiple interviews with any combination of formats. Some interviews can even last for an entire weekend; meeting with faculty, current students and other applicants. Using an online appointment scheduling solution can increase the number of interviews conducted be making them easy to schedule while minimizing the time required to reschedule them if necessary.
5. Inbound Marketing
UMassOnline offers online courses for all the University of Massachusetts undergraduate and graduate schools but it also manages all the inbound marketing leads for all the campuses. This ensures that the campuses are not competing over search engine keyword rankings and paid search advertising. Currently, UMassOnline website ranks as one of the top higher education destinations for over 5,000 relevant education keywords. Graduate schools need to ensure that their advertising spend and SEO strategy is maximized for their graduate school website while not cannibalizing traffic from the undergraduate programs.
Conclusion
Graduate schools are competing against each other but in many cases they are competing against students deciding not to attend graduate school at all. Graduate schools need to use technology, tools and most of all, a sound, centralized admission strategy to make the process as painless as possible while addressing the needs of the prospective graduate students.
Thank you for reading our series on Student Life Cycle, please read our other blog posts in the series and share your comments below.
Our digital appointment booking platform has been built to help universities and colleges connect the dots - between their staff, resources, offices and students.
In this brochure, you'll learn more about our solutions and sector-specific use cases. Read the success stories from our customers and find out how BookingBug can help you achieve truly connected student and staff experiences. Get your copy here