2017 has been another interesting year for retail tech so far, with Amazon launching a checkout-free shopping experience and Domino's Pizza unveiling a bot for Facebook Messenger that lets customers order directly through the app.
Yet both of these tech advancements actually have something far more important at their core; retailers are realizing the value of putting customers at the center of the experience, and how they can increase the value of each interaction in the process.
It's no surprise, with 95% of us now using multiple channels to do our shopping, retailers are adapting to ensure they can make meaningful connections with customers wherever they are interacting.
This is exactly what international department store Debenhams has done. Working with BookingBug, the brand has boosted personal shopping sessions, one of the best ways to build close connections with customers, by 25%.
Donna Hudson, Senior Marketing Co-ordinator at Debenhams explains "More personal shopping appointments means more customers than ever are receiving the ultimate, VIP treatment with Debenhams. This grows their loyalty and helps them become advocates for the unique, differentiated and exclusive experience we work hard to offer."
At the same time, the project also unlocked the value of the data behind each booking and reduced admin for staff.
"After 12 months live we haven't experienced a second of downtime and feedback from staff and customers has been excellent. We also now know that when the time comes to consider offering additional services, such as bra fittings or beauty sessions, we have a robust platform and audience to power it. Before BookingBug we couldn't have been sure we'd see real results or have been able to measure the impact."
Debenhams can now measure and track the impact of in-store appointments across 88 stores, paving the way for enhancing the customer experience with additional propositions in the future.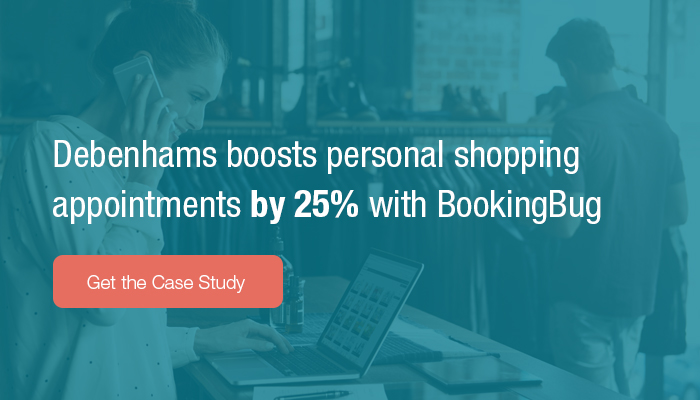 Learn more about how Debenhams are using BookingBug to enable customers to book personal shopper appointments in 88 key stores, across all customer communication channels. Get the case study!