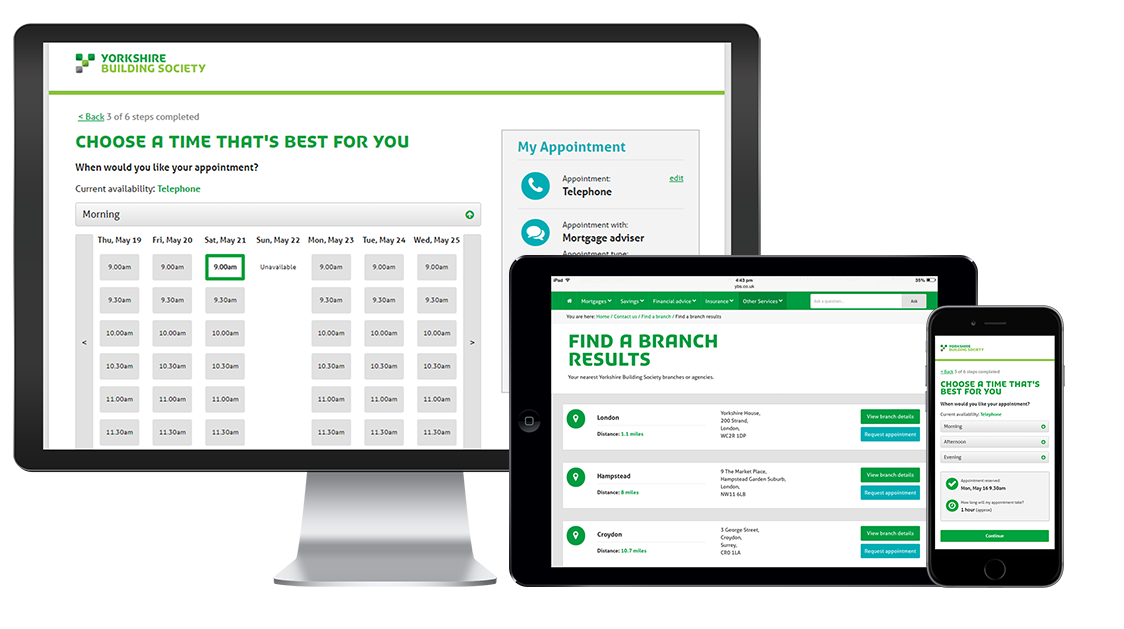 Banks are working harder than ever to make sure every customer gets quick, professional service from knowledgeable members of staff.
However, with such a variety of services on offer, it can be difficult to segment those customers by need and offer timely, personalised help. If your staff are all occupied with simple, transactional banking tasks, you may miss the couple who just came in looking for their next mortgage. Or the entrepreneur hoping to open her first business account.
The question is: how can you establish systems where customers can find, and access, the services they are interested in? Then how do you make sure you have the right resources available to meet those needs? And how do you manage it across an expanding range of channels, teams and locations? Universal, Omnichannel Banking.
Building society implements BookingBug for mortgages https://t.co/1tB5T7Pt9E pic.twitter.com/BrQOouHRAK

— Jane McCallion (@janemccallion) July 4, 2016
Universal, Omnichannel Banking
In response to this challenge, Yorkshire Building Society (YBS) has leapfrogged the current trend for basic online bookings to introduce a joined up and omnichannel approach, centred around the customer.
Whether booking in branch, online, on mobile or via call centres, every interaction feeds into a central system, making YBS the first mortgage provider with such a strategy in the country.
It has never been quicker or easier for a customer to express their requirements clearly and get informed advice when and where they need it.
Let's take a look at one of the specific challenges in more detail and how they tackled it.
Commodity tasks must facilitate human interaction when reqd. Everything else, an ATM can handle. @bookingbug https://t.co/d80jHFKrE2

— Madkap (@kapz_arora) June 29, 2016
Bringing the customer closer
At YBS, mortgage appointments had always been available in branch and by phone. But these systems were put in place pre-internet, so online availability was a second thought, relegated to a basic request form hidden on the website.
Applications could sometime take time to reach the right person, engagement was below expectations and there was no way to measure or analyse demand, appointment turnout and outcomes. Disjointed systems were damaging YBS' ability to improve the customer experience.
UK's Yorkshire Building Society automates appointments system with BookingBug: https://t.co/0r5co7kanD #fintech pic.twitter.com/4XDBY2fpVd

— Banking Technology (@BankingTechno) July 1, 2016
When searching for a partner, YBS spoke with many vendors whose technology was clearly developed before omnichannel became the default customer expectation.This software often didn't meet modern standards and wasn't designed for ease of use among customers or in branch teams.
Then they found BookingBug.
BookingBug was designed for the modern web and the connected customer since day one. It is now used by the majority of UK retailers to manage and optimise added value services across thousands of stores.
YBS's decision came down to three key strengths from the BookingBug platform:
Omnichannel accessibility: Instant appointment availability for nearby branches, available via every channel — online, in-branch, mobile and call centres.

Cutting staff admin by 50%: Automated qualifying questions and scheduling of appointments frees staff to spend more time with customers.

Integration with existing software: Including Microsoft Outlook to check staff calendars, confirm availability and send reminder emails.
YBS achieves omnichannel upgrade with BookingBug @Bookingbug @Yorkshire_BS https://t.co/j1Wjj1Wlgc

— IBS Intelligence (@IBSIntelligence) June 30, 2016
Steve Finch at YBS explains the results:
"As well as seeing a significant increase in in-branch mortgage appointments, we've cut the admin time to book and qualify these appointments in half. This frees up our branch staff to focus on what matters most: delivering excellent customer service. "
Want to learn more? Get in touch to see the full case study from Yorkshire Building Society, and discover how banks, credit unions and building societies are connecting with their customers.
YBS tech upgrade grows mortgage bookings https://t.co/AYHc2rspEB

— FStech Magazine (@FStechnology) June 30, 2016