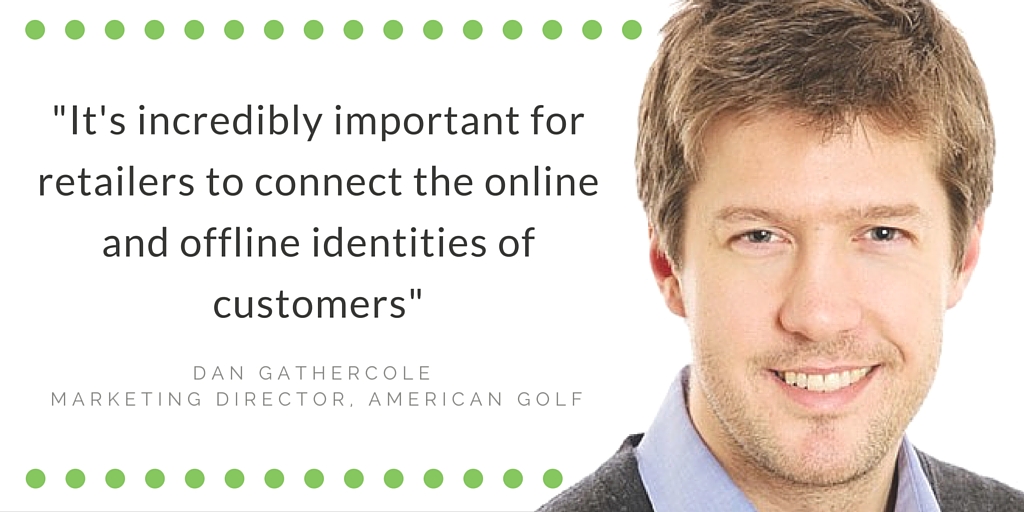 In this new series of posts we'll be speaking to customers about their journey to becoming omnichannel organisations, successfully building brand loyalty and driving revenue through value added services.
To tee things off, we caught up with Dan Gathercole, Head of Marketing at American Golf, to find out how the UK's leading golf retailer helps its customers get on the green.
Hi Dan, online shopping is built for convenience, so why do customers come in store?
Our research shows 90% of customers will go online to look at products before coming into stores to make a purchase. For us this means both channels are incredibly important.
Having a solid omnichannel strategy is key. This shift has happened over the last decade and makes it incredibly important for retailers to connect the online and offline identities of customers. Then you can follow a path to purchase from the first point of contact with your brand.
So if in-store services drive sales, what challenges are in the way?
When people book custom fitting sessions, we always find they have a good experience and the majority will make a purchase. Historically though the three biggest blockers have been telling people about these services, demonstrating the value of them and joining the dots between the online and offline personas of our customers.
How have you tackled this?
Technology has played a major part in taking on this challenge. Obviously BookingBug plays a big part in this by helping us bring these bookings online. This has a had a major impact but was only one piece of the puzzle. These bookings also impact our marketing by raising awareness of the fact we even offer and inform our plans moving forward.
Can you elaborate?
Well, one element of online appointments that we hadn't considered before working with BookingBug was customer insight. We can see who is booking which service and in what store, looking at this data we can understand the conversion rate of our sessions.
Where's the market going next and what does that mean for you?
Unified Commerce is the next logical step for any retailer planning to grow significantly in 2016.
For us we're ramping up our online activity whilst launching more golf tournaments, a fitting roadshow and a consumer golf show, all free for our customers and all available online.
These events are win-win. Customers get a great experience and American Golf can use the data gathered from these events to offer our customers even better recommendations in the future and prove that we want a real relationship, not one where we turn our back after we've made a sale.