Intelligent concierge welcomes customers into busy stores and branches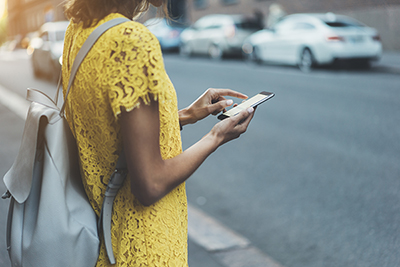 For years, the world's biggest organizations have been grappling with added value services and appointments, so that when a customer enters their store, they know who they are, what they want, and can get their best team on the job.
Now, they can get that same insight about every customer who walks into the store, thanks to BookingBug Dynamic Queue Management. With the addition of a queuing solution, the BookingBug platform handles both pre-scheduled appointments and walk-ins for better customer and staff experience.
Why Queuing Matters
Once you capture a queue digitally, it becomes so much more than a line of people. Identify who is waiting, why they are there, where they found your service and which staff member is best suited to serve them.
It enables a whole range of customer experience possibilities that you would normally only achieve with pre-booked appointments:
Distinguish between visitors waiting for business and consumer services

Follow up with them if they miss their spot Ensure customers who booked in advance are served promptly

Share real-time updates on in-store digital signage or as SMS reminders

When queues hit capacity, staff can offer to book appointments to smooth out demand and prevent long waiting times
Finally, one of the most potentially frustrating elements of the in-store experience can become a pleasure and opportunity to create further loyalty.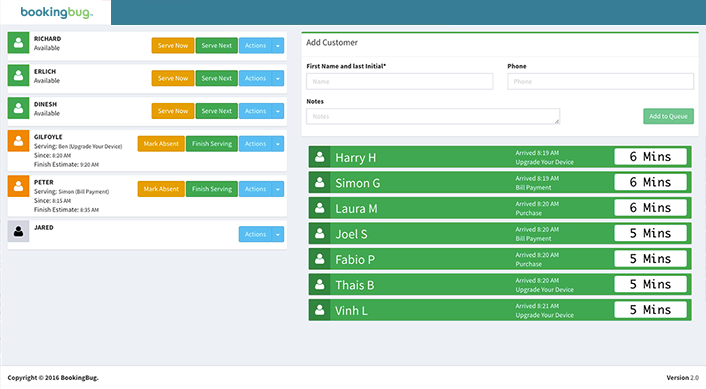 Diving into the details…
Automated Concierge: Welcomes customers professionally and consistently into busy stores and branches. It then intelligently uses configured, historic and real-time data to calculate queue times and manage customers, meaning customers receive accurate and personalized wait time information.

Real-time visibility of staff availability: Associate calendars display queued commitments and pre-scheduled appointments side-by-side, providing accurate availability of individual staff and flexible service operations.

Operates within the BookingBug platform: Alongside Appointment Scheduling and Events, to improve sales, operational efficiencies and customer success.

Improving store and branch performance: Enable performance and service level analysis, streamlining customer service and reducing OpEx costs. Improve service based on potential deal size and availability of staff, rather than on a linear queue. Provide staff with bespoke cross-sell and upsell information to increase customer value and ROI.
Completing BookingBug's mission
BookingBug exists to help you increase your most important engagements with your highest value customers.
Today's announcement of Dynamic Queue Management finally completes this picture for all your customers who haven't booked, creating an unbeatable customer experience.
For banks, retail and government, it's the only platform to connect, manage and measure the in-store experience across tens of thousands of appointments. Find out more in our Dynamic Queue Management

BookingBug's Dynamic Queue Management is a scalable customer management solution for multi-location organizations. It offers advanced reception, queuing and routing, seamlessly integrating with existing on-site infrastructure to deliver an enhanced customer experience.
Check out the recorded webinar that was hosted by our EVP, Karim Iskandar to see Dynamic Queue Management in action. Watch now!