Happy Halloween, all!
Here at the BookingBug HQ, we love a good bit o' fun! And as today is the most opportune moment for some spooky office shenanigans, we thought it'd be fun for some friendly competition. However, it seems our BookingBug team has been replaced with an entire cast of characters from various films! Thankfully, they all seem to know what they're doing. But here are some photos of the unusual lot that has shown up to work…
One of the members of the Crazy 88 is busy coding…
Some customers may have been speaking to the Phantom of the Opera, or Anakin Skywalker…
Mrs Mia Wallace is taking some important business calls…
We're weary of what's in that tea made by Shredder…
The Karate Kid and Wolverine fight over the last cupcake we had left…
And this certainly isn't a hospital, Joker…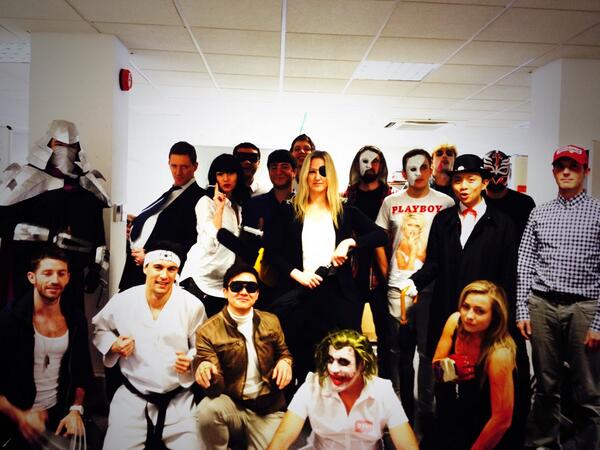 This lot is really a mixed bunch…
So who do you think did the best? And we'd love to see your costumes for Halloween too!
Also, don't forget we have a Halloween competition for our users as well! To get a chance to win 30% off your next month's subscription, simply do any or all of the following:
1.* Like, share and comment* with what your Halloween costume  is on this Facebook post
2. Follow us on Twitter (@bookingbug),  tweet at us with #BBhalloween what your Halloween costume is (or better yet – show us with a picture!)
3. Follow us on Instagram (@bookingbug), and* snap a pic* of your Halloween costume with #BBhalloween
4. Add the BookingBug page to your Google+ circles, and give this post a +1
We will be randomly selecting a winner on each platform, so you can enter via all of the methods! So get creative – we want to see those costumes! We will be announcing winners next Monday (4/11/13) – be sure to get your entries in before then!
Trick or treat!