In the past, banks competitive edge came from product, price and size of their branch network. The institutions with large branch numbers took the lion's share of the market through locality and convenience.
Today, the main competitive advantage goes to the bank providing the best customer experience.
Despite online banking becoming the main channel for customers to conduct their day-to-day finances, recent research by Celent found that 77% of adults in the USA prefer in-branch conversations when needing advice or making big decisions, and 93% of millennials prefer some matters to be handled in person. Today's experience combines traditional elements, like relationship and rapport, with new emphases on simplicity, convenience and speed.
Buying a new product from a bank, whether it be a loan, mortgage or credit card are some of the few instances that customers still have to go in-branch. For the banks, this means that their in-branch customer service must be up to scratch, as fewer face-to-face interactions means customers are more aware of the service they receive when they do go in-branch.
Yet offline banking is falling far behind the curve when it comes to customer experience, opening up a void for new competitors who can provide the experience customers crave.
Banks failure to adopt new technologies to improve the in-branch experience has cleared the way for a new wave of hungry, non-traditional competitors such as fintech startups, next-gen banks, and non-banking institutions. These savvy newcomers understand the value of customer experience and put significant resource towards prioritizing it. This could get even worse for the banking industry with the next wave of challengers: the tech giants.
Technology predators on the horizon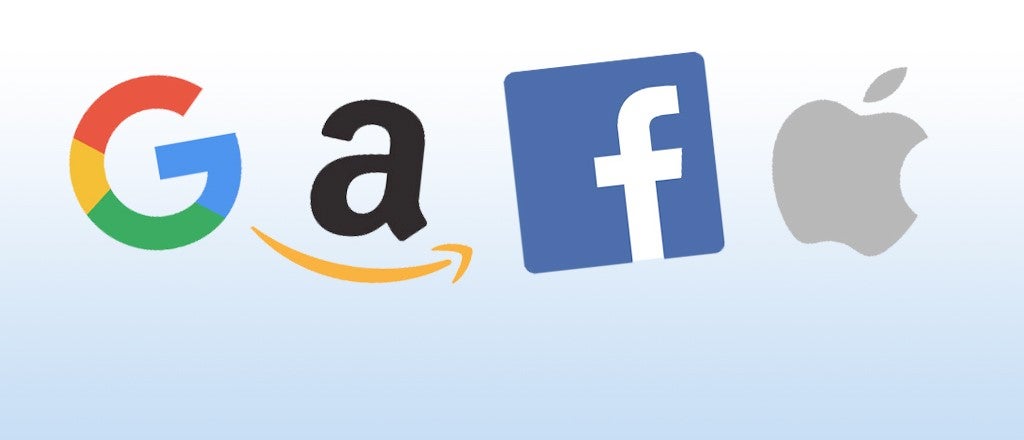 Tech giants including Google, Amazon and Facebook have become integral to our daily lives by making all interactions simple, efficient and convenient. With traditional banks falling so far behind in their ability to use technology to improve the customer experience, these tech giants are closing in with plans to apply their expert customer knowledge to the financial industry.
Amazon has already successfully invaded various industries: retail, books, music, television and grocery services are just some examples. Now, Amazon have set their sights on banking, and this seems to be something that customers would consider. 60% of banking and insurance customers globally have said they would consider switching their accounts to Google, Amazon or Facebook if the tech giants offered financial services, according to a new survey. This percentage was even higher for younger customers aged between 18 to 34, as 73% said they would try a tech firm's credit card, deposit account, investment or mortgage.
"They're saying if you come up with an experience as simple and easy as my shopping experience is with Amazon, I'm ready to do that now," explains Gerard du Toit, a Bain & Co partner and co-author of their latest report. "We've seen this happen already in China, where it's common for people to do many of their banking activities through WeChat and Alipay and players like that."
There's hope for banks
The biggest weapon in the traditional banks' arsenal is the branch. Contrary to belief, "consumers continue to see the value of branches for the 'human factor,'" says Adrian Kirschfink, Managing Director at Accenture Financial Services.
Although 24% of consumers say they would consider a branchless bank, nearly 90% of customers believe they will continue to use their branches, and an increasing number of consumers believe that the branch is the single most important channel.
He goes on to say: "The key to success will be to create a new mission for branches -- moving away from simply serving customers -- to adding tangible value for customers by educating them though digital tools, assisting them through problem-solving and enabling them to make their own financial decisions with thoughtful and well-timed advice."
Just as the rise of innovative technology has intimidated the branch in the past few years, it also carries the key to their continued future.
If banks can implement the right solutions, then they can ensure that their branches are cost-effective and play their part in providing an excellent customer experience. Offering in-branch events like information sessions for first-time home buyers, or "Investing 101" workshops can increase customer loyalty and utilize branches.
So before the inevitable invasion of the tech giants, banks must take a leaf out of the retailers' rule book and start fighting fire with fire by investing heavily into the customer experience and technology that will help them compete.
3 ways to supercharge your branches in 2019:
1. Experience
Drawing people in branch for an 'experience' rather than a utility has been key in the retail industry's battle to retain customer footfall. Banks can do the same by offering their customers an inviting space to conduct their personal banking, get personalized advice from an expert at a bookable time that suits them, or attend an information event on how to manage finances.
An example of this is Capital One's recent venture, the Capital One Café, which aims to market to millennials and bridge the gap between customer and branch in order to improve the in-branch experience. At the cafés, customers can get answers to questions and manage their finances in a casual, relaxed atmosphere. The expansive open layout is "designed to facilitate discovery, conversations, hospitality, education, and community events," says Ryan Laudenbach, Seattle Market Lead for Capital One Cafés.
2. Convenience
Recent years have seen many banks closing branches in a push to move services online, save money and modernize the customer experience. Although this has proven convenient for transactions like transferring money and checking a balance, many services still require customers to go in-branch. Due to limited available hours, this often means large queues at peak times and a rushed, impersonal customer experience.
Metro Bank has bucked this trend by taking banking to a new level of customer convenience, with branches open seven days a week and speedy service to suit the busy lifestyles of their customers. Paul Riseborough, Metro's chief commercial officer, explains: "Service is at the core of our model and at the heart of the banking experience we provide. It's about being convenient in our customers' busy lives and our bank manager's role is to be embedded in the local community."
3. Insights
The in-branch customer experience is becoming a key touchpoint for modern banks. With customers stepping in-branch less regularly, but for higher-value interactions – for example, getting advice or buying products like mortgages or loans – the interaction they do have in-branch is important.
Research by Capgemini indicates that only 37% of customers believe that banks understand their needs and preferences adequately. But with each customer interaction, banks collect an immense amount of data that could be used to give banks an edge when creating a personalized customer experience.
A great example of a bank that has successfully leveraged data to build a better customer relationship is Zions Bank, based in the US. Zions Bank employs big data to derive insights about the growing Hispanic community.
In an interview with American Banker, Senior Vice President Juan Carlos Judd explains how data analytics helps "the bank identify Hispanic consumers within its geographic footprint and see their education levels, home ownership, affluence and other factors. The bank then breaks the segment down into groups and identifies financial needs for each." Based on these segmentation insights, Zions Bank has strengthened their customer relationships and have grown its Hispanic customer base 10-15% in the past few years.
If you're interested in more tips like the above, BookingBug has recently completed our 2nd year of independent consumer research that highlights insights from 2,000 qualified respondents in the US and UK to provide a global view into the evolutionary changes occurring in retail banking.
To learn more about how banks can adapt to the latest industry trends, our 2018 Modern Banking Research.