Managing staffing at a bank is challenging – having the appropriate level of employees at each branch to meet customer demand for depositing checks, applying for loans and withdrawing cash. Banks are looking to make their branches more profitable and efficient. The easiest way to achieve these goals is to implement queuing and scheduling software to better meet the needs of a bank's customers and employees.
Here are six reasons why banks need to invest in a queuing and scheduling solution.
1. Customers can set up appointments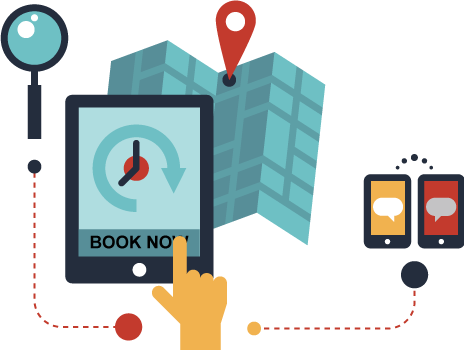 Implementing a scheduling solution allows customers to pick the best time for them to meet with the bank team member without having to wait in line. This means that customers will be better prepared and ready for their meeting, which means a more productive meeting for the bank.
---
2. Avoid missing paperwork
When customers come without all the necessary paperwork it is a waste of time for everyone involved. These instances will leave customers frustrated and feeling that they did not receive clear communication about the paperwork required. With appointment scheduling software, it can be a rather simple process to query customers whether they have all the necessary paperwork before scheduling an appointment.
---
3. Banks can predict walk-in traffic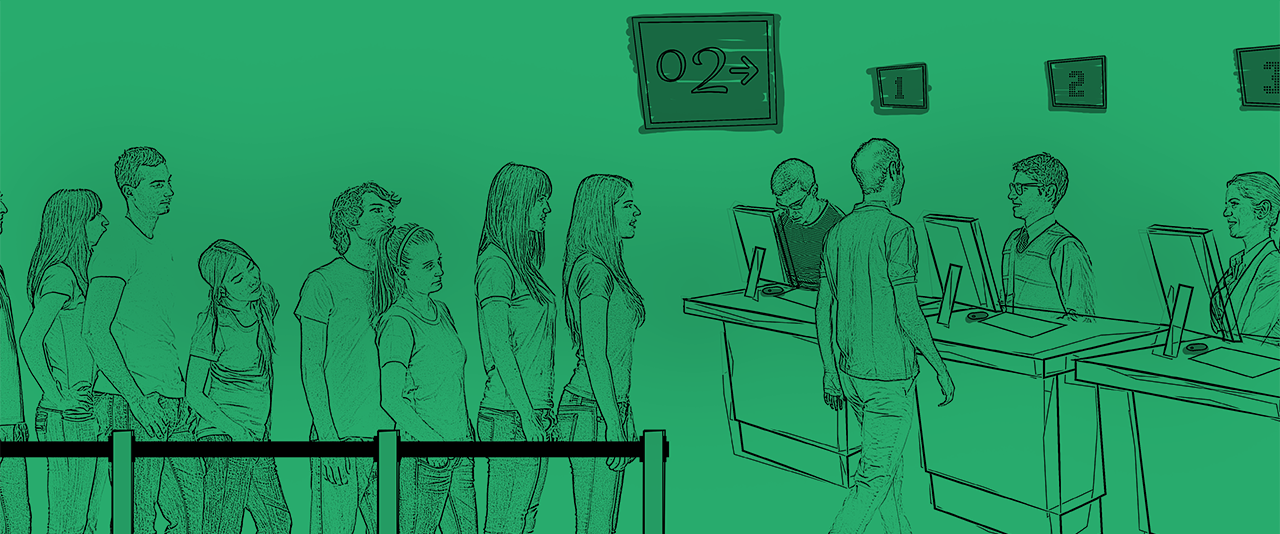 Banks can use queuing and scheduling software to build data traffic models that allow them to predict when customers will come into their branches.
---
4. Banks can streamline branch traffic
By incorporating store traffic prediction software, banks can now streamline these traffic peaks and valleys. By offering appointments when the branches are fairly empty or when employees are most willing to work, banks can minimize the time people are waiting in line and the chance they will walk out the door.
---
5. Customers know how long they will have to wait
Communicating real-time wait times to your customers allows them to choose when to visit your location or which location to visit if you have multiple locations.
---
6. Customers get orderly queuing
Banks practically invented standing in line with their ubiquitous metal poles and adjustable straps as they corral their customers to the next available teller. Smart financial services institutions try to mitigate long lines by offering waiting customers the opportunity to schedule an appointment at a later time via signage.
Banks are investing billions in artificial intelligence and machine learning in order to make better decisions about their customers. For a fraction of the cost, banks can invest in scheduling and queuing software to make it easier for their customers to do business with them. Predicting and streamlining traffic makes the branch visit more convenient for the customer. No customer wants to wait in a long line to be serviced. Banks can use queuing and scheduling software along with web, mobile apps and email alerts to give the customer control over how they would like to do business with their financial institution. And while bank employee turnover is at about 20%, a number which is lower than traditional retail's 65% turnover, banks can do a better job incorporating employee scheduling wishes into their work schedules will result in lower turnover and happier employees. With these recommendations, Banks will be better able to meet both customer needs and employee needs, while making their branches more successful.
For more research on waiting in line, download our eBook, The Science of Waiting in Line.